Last Updated on December 5, 2022 by Rocklyn Clarke
Thank you for your interest in giving to Life Church Boston — we appreciate your support!
Got questions about giving in the Bible? Check out our About Giving page.
You can support our ministry in a number of ways.
You can give financially:
When you give, we will record your donation and contact information in our e-Life system so that we can give you a record of your giving at tax time.

Electronic Giving
We can accept electronic payments through the following:
Each of these electronic methods allows you to designate the purpose for your gift (e.g. tithes, offering, building fund, missions, speaker, benevolence fund, etc.).

In Person Giving
You can give in person during our Sunday services. We provide giving envelopes for your convenience: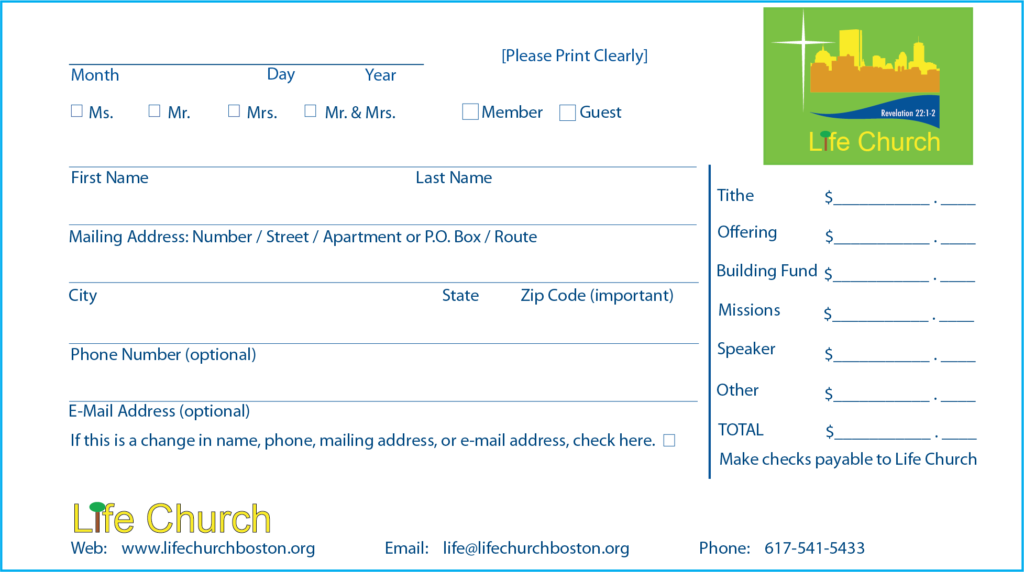 Fill out the following information:
first & last name
mailing address
the amount of your gift
how much of your gift we should use for specific purposes (e.g. tithes, offering, building fund, etc.)
(if you'd like to contribute to our benevolence fund, fill in the amount next to "other" and write benevolence in the lower right portion of the envelope)
This allows us to credit you properly for your gift by providing you with a statement for tax purposes.
The following information is optional but will be helpful to us if you choose to provide it:
phone number
email address
If your information has changed, don't forget to check the appropriate box!
Fill out the required information and place the envelope in the offering bucket or give it to one of our leaders.
You can give your time:
You support Life Church Boston by giving your time, volunteering your skills and talents, and getting involved.