Last Updated on October 26, 2023 by Rocklyn Clarke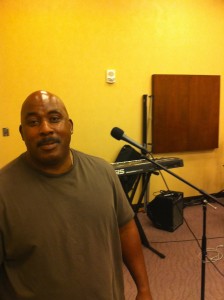 William Baxter
Life Group Leader
(currently on leave)
William Baxter was born on November 3, 1959 at Princess Ann County Naval Base in Portsmouth Va. In 1960 his loving parents William and Florita Baxter moved their family to Boston. William attended the Emmanuel House School for nursery and kindergarten, St Francis de Sales and St Johns Grammar schools in Roxbury, Massachusetts, and then The Holy Cross Cathedral High School in the South End of Boston where he excelled in the football and graduated in May of 1978.
In 1979 William began a career in Criminal Justice/ Law Enforcement. He worked for the Dare Family Service in conducting psycho-criminal screenings and transporting juveniles to various state facilities. In 1980, he worked as an Intake Counselor for the Judge John J. Connolly Detention Facility in Roslindale, Massachusetts. In 1983 he was appointed and sworn in by then Sheriff Dennis Kearney as Deputy Sheriff of Suffolk County, and attained the rank of Sergeant Deputy in 1986. In 1989, William became a Patrolman for the City of Boston Police Department and is currently assigned to the Community Service Office as a Youth Service Officer.
In 1990, William married Gayle Elaine Thomas.
In 1995, William began following Jesus and his life began to transform. He was baptized at Holy Tabernacle Church and eventually transitioned to New Covenant Christian Church (now Jubilee Christian Church). He likens his transformation process to the song: "As the deer panted for the water, so my soul thirsted after you".
In 2005, William graduated Suma-Cum Laude from Newbury College with a Bachelor's Degree, in Criminal Justice. In that same year he was contracted by the Federal Government as a National Trainer for the G.R.E.A.T. program.
In 2006 William and Gayle joined Life Church where he currently serves as part of our Ministry Leaders Team.
Awards:
2002: Boston Celtics Unsung Hero's Award
2003: received the Boston Neighborhood Fellows Award
2009: Bank of America Award
More about Bill: