Last Updated on February 9, 2023 by Rocklyn Clarke
Eva L. Clarke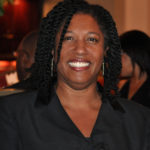 Executive Pastor & Co-Founder
Life Group Leader, Sunday Bible Study Leader, Sermons, Children's Church Coordinator
Brief Bio
Eva L. Clarke is a Vice President and Asset Manager for Boston Financial Investment Management, a syndicator of investor equity in the low income housing tax credit program.  In that capacity since 2006, Eva manages risk in a regional portfolio of multifamily properties and resolves operational, financial and compliance issues.
Eva is also a pastor of Life Church Ministries in Boston, Massachusetts, which she co-founded in 2003  with her husband, Rocklyn, the Senior Pastor. Eva was ordained in 2007 under Church Without Walls International during the annual Covenant Convention of New Covenant Christian Church (now known as Jubilee Christian Church).
She lives in Dorchester, Massachusetts with her husband. They have a son and a daughter and, as of 2015, five grandchildren.
Eva is an alumna of the Massachusetts Institute of Technology (MIT) (Class of 1981) and received her S.B degree in Urban Studies and Planning there in 1990 after taking some time off raising her family.
Last Updated on February 9, 2023 by Rocklyn Clarke
Organizational affiliations:
Blue Hub Capital loan committee member
Former member and chair of the Emmanuel Gospel Center Board of Directors.
MIT Christian Alumni Network planning team member
Codman Square Can We Talk? leadership team member
Volunteer staff member of the InterVarsity Christian Fellowship
More about Eva: