Last Updated on January 11, 2022 by Rocklyn Clarke
Andrew D. Grant, Bio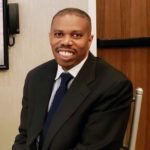 Life Group Leader
A passion for Christ- to rescue the perishing; into physical and Christian spiritual development
Andrew Grant was born in Bridgetown, Barbados to Mr. Darnley Grant and Mrs. Etwin Grant. He is the second of two children born to this family.
He was educated in Barbados at the Lodge School and the Combermere School where he obtained 'O' level certification in English, History, Geography, French and Spanish and 'A' level certification in French and Spanish.
He received Christ as Lord and personal savior on May 29th, 1981 and was baptized on March 6th, 1982. He was received into membership at the Abundant Life Assembly on March 7th, 1982 where he served faithfully for 19 years serving in most of the church's departments.
After receiving the call for full time ministry on May 12th 1991, he enrolled at the West Indies School of Theology (W.I.S.T) in St. Joseph, Republic of Trinidad and Tobago to pursue studies in theology. At this bible school, he was elected as student body president and became editor in chief of the school magazine, the Flame. During this time, he did pastoral stints at Zion Tabernacle, his home church Abundant Life Assembly, Pentecostal Cathedral in Trinidad and the Champ Fleurs Pentecostal Assembly in Trinidad. He graduated with honors from W.I.S.T in May 7th 1994 with a diploma in theology. Upon completion of his studies at W.I.S.T, he spent a year serving with Operation Mobilization in cross cultural missions in France, the U.K and Hungary.  Here, he interacted with the public to help them discover their potential and reach their destiny in God and participated in conferences and seminars to communicate the organization's objectives.
From May 2001 to September 2009, he served as assistant pastor with In House Assembly Ministries. As assistant pastor, he was in charge of the junior church department, missions, evangelism and intercessory ministry.
Andrew Grant is passionate about seeing others serve God in spirit and truth. He is also passionate about health and fitness and believes our bodies are the temple of God and we need to treat them as such. He also has an interest in civil aviation having spent many years in that field.
He is currently single and resides in the Greater Boston Area of Massachusetts.